EHI Science Award
Background for the award is a joint project with TU Darmstadt (Field of Electronic Markets) and the University Passau (Chair of Information systems with focus on E-Commerce). An approach was developed to automating keyword research, booking, creation of display text as well as the target URL and start bids for Search Engine Advertising at its best, while improving the quality of Search ads as well as the operating figures in SEA at once.
Learn more: ottogroup.com [German]
The Chair
Prof. Dr. Oliver Hinz with the current doctoral students.
back row f.l.: Prof. Dr. Oliver Hinz, Michael Weiler, Benjamin M. Abdel-Karim
middle row f.l.: Nora Jansen, Cristina Mihale-Wilson, Patrick Felka
front row f.l.: Zofia Saternus, Katharina Keller, Nicolas Pfeuffer, Gisela Prelle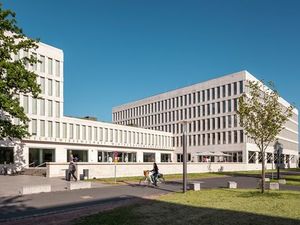 Prof. Dr. Oliver Hinz heads the Chair of Information Systems and Information Management since September 1st, 2017.
Research as well as teaching focuses on recent developments from the area of digital markets, applied artificial intelligence, the business value of IT, the adoption and diffusion of new technologies and the measurement of social influence.
The chair offers lectures on "Digital Business" and "Information Systems II", "Social Network Analysis" and "Applied Data Analytics in Information Systems". Additionally we offer a broad spectrum of seminars.