The Chair
Prof. Dr. Oliver Hinz with his chair (from left to right):
Jendrik Seip, Dr. Patrick Felka, Lorenz Baum, Maximilian Lowin, Björn Hanneke, Anjana Cordes, Dr. Cristina Mihale-Wilson, Tobias Kohl, Prof. Oliver Hinz, Jan Zacharias, Dr. Katharina Keller, Johannes Chen, Beate Geschwandtner, Moritz von Zahn, K. Valerie Carl, Patrick Weber, Rebecca Heigl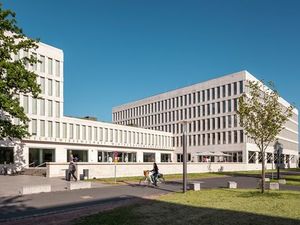 Prof. Dr. Oliver Hinz heads the Chair of Information Systems and Information Management since September 1st, 2017.
Research as well as teaching focuses on recent developments from the area of digital markets, applied artificial intelligence, the business value of IT, the adoption and diffusion of new technologies and the measurement of social influence.
The chair offers lectures on "Digital Business" and "Information Systems II", "Social Network Analysis" and "Applied Data Analytics in Information Systems". Additionally we offer a broad spectrum of seminars.