The Chair
Prof. Dr. Oliver Hinz with his chair (from left to right):
Jendrik Seip, Dr. Patrick Felka, Lorenz Baum, Maximilian Lowin, Björn Hanneke, Anjana Cordes, Dr. Cristina Mihale-Wilson, Tobias Kohl, Prof. Oliver Hinz, Jan Zacharias, Dr. Katharina Keller, Johannes Chen, Beate Geschwandtner, Moritz von Zahn, K. Valerie Carl, Patrick Weber, Rebecca Heigl
EHI Science Award
Background for the award is a joint project with TU Darmstadt (Field of Electronic Markets) and the University Passau (Chair of Information systems with focus on E-Commerce). An approach was developed to automating keyword research, booking, creation of display text as well as the target URL and start bids for Search Engine Advertising at its best, while improving the quality of Search ads as well as the operating figures in SEA at once.
Learn more: ottogroup.com [German]
Project ForeSight wins BMWi KI innovation contest
The winners of the KI innovation contest of the Federal Ministry for Economic Affairs and Energy (BMWi) were announced (further information can be found in the BMWi press release).In addition to 15 other platform projects, the ForeSight project, in which our professorship will be involved, also received an award.
ForeSight wants to establish an AI-based platform for the development of innovative Smart Living services in the residential environment, especially on the basis of AI-based technologies. The aim is to create a new, connecting ecosystem for manufacturers, vendors and users from different industries that will also help overcome today's interoperability problems when using components from different vendors.We look forward to the award and to working together on the project from 2020.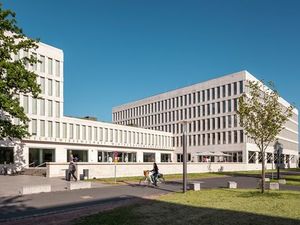 Prof. Dr. Oliver Hinz heads the Chair of Information Systems and Information Management since September 1st, 2017.
Research as well as teaching focuses on recent developments from the area of digital markets, applied artificial intelligence, the business value of IT, the adoption and diffusion of new technologies and the measurement of social influence.
The chair offers lectures on "Digital Business" and "Information Systems II", "Social Network Analysis" and "Applied Data Analytics in Information Systems". Additionally we offer a broad spectrum of seminars.